Integration of Genetic and Reproductive Counseling with Psychotherapy: Considerations Through a Case
Palabras clave:
Genetic counseling, genetic disease, psychotherapy, trauma, grief
Resumen
The main objective of this article is to invite clinical psychologists and psychotherapists to penetrate the world of rare genetic diseases and think over the emotional and psychosocial impact they have on the individual.  Beyond the informative act of genetic counseling, both those affected and their families often need a deep psychotherapeutic process to overcome the traumatic aspects and grief which are often associated with the disease.  From an integrative look, the process should also include the bio-psycho-social support to promote access to health and associative resources.  In short, the patient and/or the family need to be helped to rebuild and re-tell their life in a more autonomous and healthy way.  A clinical case is presented to illustrate the need to include psychotherapy into genetic counseling. 
Descargas
Los datos de descargas todavía no están disponibles.
Citas
Accreditation Council for Genetic Counseling. (2015). Practice based competencies for genetic counselors. USA: Lenexa. Retrieved from http://www.gceducation.org/Documents/ACGC%20Core%20Competencies%20Brochure_15_Web.pdf
American Psychological Association. (2013). Recognition of psychotherapy effectiveness. Psychotherapy, 50(1), 102-109.
Austin, J., Semaka, A. & Hadjipavlou G. (2014). Conceptualizing Genetic Counseling as Psychotherapy in the Era of Genomic Medicine. Journal of Genetic Counseling, 23, 903-909.
Coderch, J. (2010). La práctica de la psicoterapia relacional. El modelo interactivo en el campo del psicoanálisis [The practice of relational psychotherapy. The interactive model in the field of psychoanalysis]. Madrid: Ágora Relacional.
Corrigan, F., Grand, D. (2013). Brainspotting: Recruiting the midbrain for accessing and healing sensorimotor memories of traumatic activation. Medical Hypotheses, 80(6), 759-766.
Erskine, R. G., Mouesund J. P. & Trautmann, R. L. (1999). Beyond empathy. A Therapy of Contact-in-Relationship. New York: Taylor & Francis Group.
Eunpu, D. L. (1997). Systematically based psychotherapeutic techniques in genetic counseling. Journal of Genetic Counseling, 6(1), 1-20.
Fonagy, P. (2000). Attachment and Borderline Personality Disorder. Journal of the American Psychoanalytic Association, 48, 1129-1146.
Geller, S. M. & Porges, S. W. (2014). Therapeutic presence: Neurophysiological mechanisms mediating feeling safe in therapeutic relationships. Journal of Psychotherapy Integration, 24(3), 178-192.
Gendlin, E. T. (1991). Focusing. Bilbao: Ediciones Mensajero.
Gimeno-Bayón A. y Rosal, R. (2003). Psicoterapia Integradora Humanista: Manual para el tratamiento de 69 problemas que aparecen en distintos trastornos de personalidad (vols. I-II) [Humanistic Integrative Psychotherapy: Manual for the treatment of 69 problems that appear in different personality disorders (vols I-II)] Barcelona: Instituto Erich Fromm de Psicología Humanista.
Hesse, E. (1999). The Adult Attachment Interview: Historical and current perspectives. In J. Cassidy & P. R. Shaver (Eds.), Handbook of attachment: Theory, research, and clinical applications (pp. 395-433). New York: The Guilford Press.
Kessler, S. (1997). Psychological aspects of genetic counseling. IX. Teaching and counseling. Journal of Genetic Counseling, 6(3), 287-295.
Meiser, B., Irle, J., Lobb, E. & Barlow-Stewart, K. (2008). Assessment of the content and process of genetic counseling: A critical review of empirical studies. Journal of Genetic Counseling, 17(5), 434-451.
Millon, T. & Everly, G. S. (1994). La personalidad y sus trastornos [Personality and its disorders]. Barcelona: Martínez Roca, libros universitarios y profesionales.
Monrós, E., Smeyers, P., Ramos, M. A., Prieto, F. & Palau, F. (1995). Prenatal diagnosis of Friedreich ataxia: Improved accuracy by using new genetic flanking markers. Prenatal Diagnosis, 15, 551-554.
Monrós, E., Moltó, M. D., Martínez, F., Cañizares, J., Blanca, J., Vílchez, J. J. & Palau, F. (1997). Phenotype correlation and intergenerational dynamics of the Friedreich ataxia GAA trinucleotide expansion. American Journal of Human Genetics, 61,101-110.
Payás, A. (2010). Las tareas del duelo: Psicoterapia del duelo desde un modelo integrativo-relacional [The tasks of grief: Psychotherapy of grief from an integrative-relational model]. Madrid: Paidós Psicología Psiquiatría Psicoterapia.
Resta, R. G. (1997). The historical perspective: Sheldon Reed and 50 years of genetic counseling. Journal of Genetic Counseling, 6(4), 375-377.
Resta, R. G., Biesecker, B. B., Benneth, R. L., Blum, S., Estabrooks H. S., Streker, M. N. & Williams, J. L. (2006). A new definition of genetic counseling: National Society of Genetics Counselors' task force report. Journal of Genetic Counseling, 15(2), 77-83.
Rogers, C. L. (1981). Psicoterapia centrada en el cliente [Client-centered psychotherapy]. Barcelona: Paidós Ibérica.
Rogers, J. (2003). The finished genome sequence of Homo sapiens. Cold Spring Harbor Symposium Quantitative Biology, 68, 1-11.
Safran, J. D. & Muran, C. (2005). La alianza terapéutica, una guía para el tratamiento relacional [The therapeutic alliance, a guide for relational treatment]. Bilbao: Desclee de Brouwer.
Villegas, M. (2001). El caballo de Troya o las trompetas de Jericó: El proceso de cambio en psicoterapia. Revista de Psicoterapia, 46/47, 73-118.
Wallin, D. J. (2012). El apego en Psicoterapia [Attachment in Psychotherapy]. Bilbao: Desclee de Brouwer.
Ware, P. (1983). Personality Adaptations: Doors to Therapy. Transactional Analysis Journal, 13, 11-19.
Winter, C., Van Acker, F., Bonduelle, M., Desmyttere, S. & Nekkebroeck, J. (2015). Psychosocial development of full term singletons, born after preimplantation genetic diagnosis (PGD) at preschool age and family functioning: A prospective case-controlled study and multi-informant approach. Human Reproduction, 30(5),1122-1136.
Yager, G. G. (2014). Commentary on "Conceptualizing Genetic Counseling as Psychotherapy in the era or Genomic Medicine". Journal of Genetic Counseling, 23, 935-937.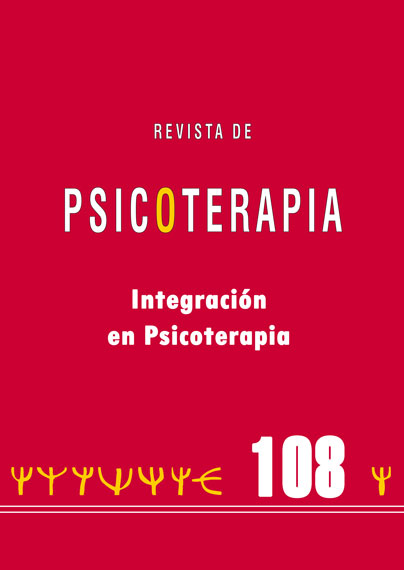 Descargas
Cómo citar
Monros, E., & Junyent, A. (2017). Integration of Genetic and Reproductive Counseling with Psychotherapy: Considerations Through a Case. Revista De Psicoterapia, 28(108), 189–207. https://doi.org/10.33898/rdp.v28i108.163
Sección
Open Access: Artículos de temática libre