Development of a Scale to assess Personality Resources associated with Children's Resilience
Keywords:
resilience, personality, psychological assessment, psychological resources, childhood
Abstract
The study of resilience in terms of the human capac­ity to overcome adversities, build on them and emerge strengthened, has a great significance given its implication for the prevention and the positive promotion of human development. The present study aimed at assessing with a valid and reliable measure some of those personality resources frequently asso­ciated in literature with child resilience -self-control, empathy, prosociality, self-efficacy and creativity. Two different studies were carried out in order to an­alyze different complementary aspects regarding the psychometric properties of the instruments. The first study (E1) was conducted with an intentional sample of 216 children of both sexes, aged 9 to 12 years from three Argentine provinces. The second study (E2) was carried out with a sample of 479 children with similar characteristics to those of E1. Explora­tory and Confirmatory Factor Analysis were per­formed and the discriminative power of the items, the internal consistency of the instrument and different analysis of discriminant and convergent construct validity were studied. Results of both studies indi­cated that the final version of the instrument meets the expected criteria for validity and reliability. From a brief psychological test of easy administration, the scale developed enables to obtain a profile of person­ality resources associated with the child resilience. Bearing in mind that such resources are just one of those aspects to be considered in the assessment of this significant construct, it is suggested to further supplement this information with the assessment of the risks and the competences in other areas of psy­chological development.
Downloads
Download data is not yet available.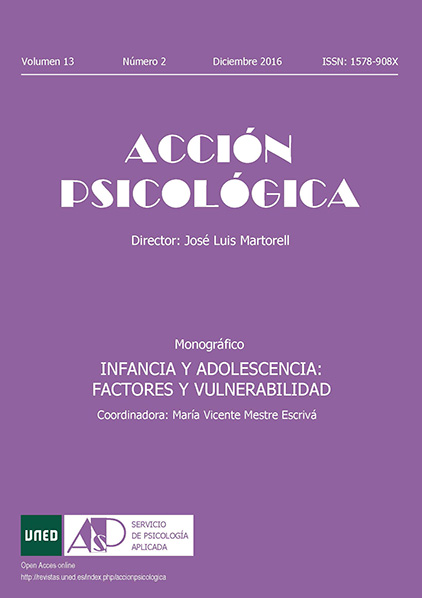 Downloads
How to Cite
Lemos, V., Krumm, G., Gutiérrez, M., & Arán-Filippetti, V. (2016). Development of a Scale to assess Personality Resources associated with Children's Resilience. Acción Psicológica, 13(2), 101–116. https://doi.org/10.5944/ap.13.2.17821
Section
Artículos del monográfico [Monograph´s articles]