Assessment of psychological variables in treating people with addiction: psychometric properties of the questionnaire VIP
Keywords:
psychological assessment, addiction, coping, self-esteem, optimism, confirmatory factor analysis
Abstract
The Questionnaire of Psychosocial Interaction Variables (VIP) was proposed a decade ago to explore psychological variables critically related with addiction: self-esteem, ogeneral self-efficacy, optimism, locus of control, social skills, self-control and coping styles. The present study was conducted a confirmatory factor analysis on a sample of 1,242 subjects treated for addiction and has studied the reliability of the scales and predictive validity on health variables and perceived stress. The factorial study showed adequate construct validity and all scales showed proper reliability, except that of locus of control, with only three items. Several scales show high correlations with perceived stress scale, quality of life and health-related risk of poor mental health. It stresses the predictive capacity of the scale of optimism on these three variables, probably being the least studied in relation to addiction. Effective treatment of drug addiction is closely linked to the evaluation and possible intervention on individual psychological characteristics that may influence the therapeutic outcome. Therefore, it is necessary to have reliable and valid instruments that allow the assessment to delimit the personal characteristics, strengths and weaknesses of the people who start a treatment. The VIP appears to be a useful tool in psychological assessment, as it provides, in a single administration, data on a number of psychological variables, it is a free tool, freely available to clinicians and easy correction and interpretation.
Downloads
Download data is not yet available.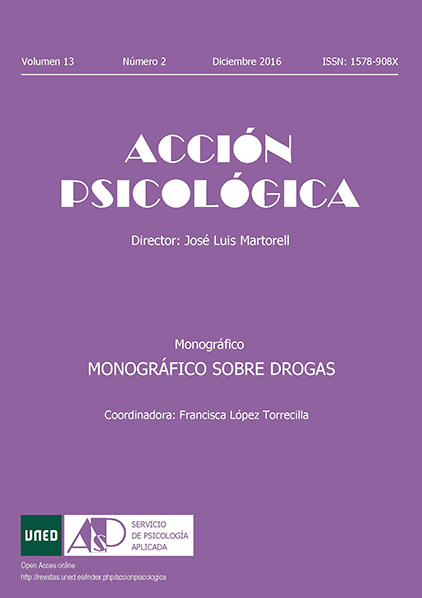 Downloads
How to Cite
Pedrero-Pérez, E. J. (2015). Assessment of psychological variables in treating people with addiction: psychometric properties of the questionnaire VIP. Acción Psicológica, 13(1), 91–108. https://doi.org/10.5944/ap.13.1.15363
Section
Artículos del monográfico [Monograph´s articles]