Relationship between family functioning and exposure to violence among Mexican adolescents
Keywords:
family functioning, exposure to violence, Mexican adolescents, family cohesion, family communication
Abstract
The aim of this study was to investigate the relation­ship between family functioning and exposure to vi­olence among Mexican adolescents. The design of this study was transversal, descriptive, and correla­tional. Participants were 133 high school students, ages 15 to 18. Two instruments were administered: La Escala de Evaluación de la Cohesión y Adapta­bilidad Familiar, in English The Family Adaptability and Cohesion Evaluation Scale, (FACES IV-Esp) by Rivero, Martínez-Pampliega and Olson (2010), and Cuestionario de Exposición a la Violencia, in English Exposure to Violence Questionnaire, by Orue and Calvete (2010). Results showed statistically signifi­cant gender differences related to observing violence in the streets, and victimization in the school and in the street. Gender differences were also significant in family functioning variables such as: flexibility, co­hesion, satisfaction, and family communication. Re­sults from the correlational analysis suggested that the higher the flexibility, cohesion, satisfaction and family communication, the lower the violence obser­vation at school and at home, and the lower victimi­zation at home. Predictive validity was also observed for family cohesion over victimization at home. As a conclusion, it is important to strengthen family ties and to promote a positive and balanced family func­tioning, with the purpose of families being a protec­tive factor against violence exposure.
Downloads
Download data is not yet available.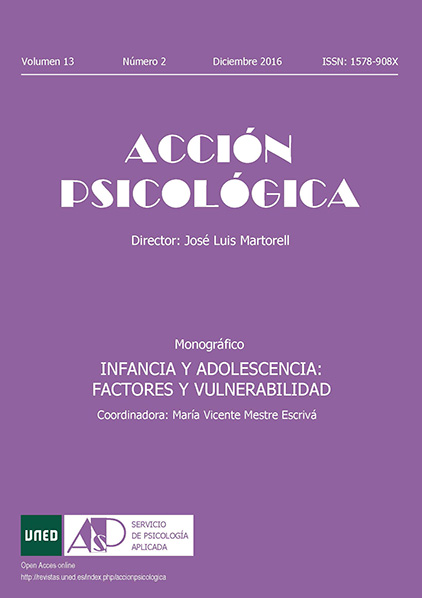 Downloads
How to Cite
Gallegos-Guijarro, J., Ruvalcaba-Romero, N. A., Castillo-López, J., & Ayala-Díaz, P. C. (2016). Relationship between family functioning and exposure to violence among Mexican adolescents. Acción Psicológica, 13(2), 69–78. https://doi.org/10.5944/ap.13.2.17810
Section
Artículos del monográfico [Monograph´s articles]