The drug use in students from the University of Jaen
Keywords:
psychoactive drugs, consumption, university, cannabis, alcohol abuse
Abstract
In recent years, the consumption data of psychoactive substances among young people have increased (WHO, 2011). Therefore, the objectives of this study were know the current status of drug use among consumer groups and high-risk alcohol and tobacco. A descriptive and cross-sectional study based on a survey was conducted, in a sample of 303 university students from the University of Jaen. The results indicate an increase of psychoactive substances over the years and that alcohol and tobacco seem to favor the intake of other psychoactive substances in university population. So it is necessary to continue working on awareness and establish improvements in preventive actions in the university context, in order to reduce as far as possible the effects of consumption.
Downloads
Download data is not yet available.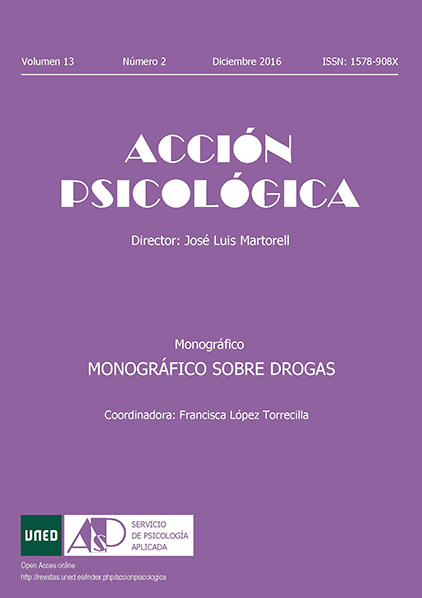 How to Cite
Díaz-Castela, M. del M., Anguiano-Garrido, B., & Muela-Martínez, J. A. (2016). The drug use in students from the University of Jaen. Acción Psicológica, 13(1), 53–66. https://doi.org/10.5944/ap.13.1.16723
Section
Artículos del monográfico [Monograph´s articles]
License
Accion Psicologica is published under Creative Commons Attribution-Non Commercial (CC BY-NC). The opinions and contents of the articles published in Acción Psicológica are responsibility of the authors and do not compromise the scientific and political opinion of the journal. Authors are also responsible for providing copies of the raw data, ratings, and, in general, relevant experimental material to interested readers.