The political purge of Victoriano Taibo
Keywords:
Teachers purging, Victoriano Taibo, Irmandades de Fala, Francoist repression, Gondomar
Abstract
This study deals with the political purge of Victoriano Taibo García (1885-1966), a poet and narrator in the Galician tongue and one of the signatories of the « Manifesto Nacionalista» during the first assembly of As Irmandades da Fala (IF) in 1918. Our work is based on the dossier kept in the Archivo General de la Administración (AGA), in Alcalá de Henares; on his collection of letters, that is part of his personal archive, kept in the Instituto de Estudos Miñoráns (IEM); on the documentation regarding municipal plenary sessions in the archive of Gondomar (AMG); and on other detailed sources that are cited.
Taibo García was a cultural activist and teacher in several schools in Galicia. Shortly before the proclamation of the II Republic, as an already renowned poet, he was appointed to the school of Morgadáns, a civil parish of Gondomar (Pontevedra), , where he taught for almost two decades and forged a strong bond to the area.
He was never affiliated with the Partido Galeguista (PG), despite his being committment to Galicianism. After the military uprising, he was not punished immediately, but, in the purge that followed, was sanctioned with banishment to Villalar de los Comuneros (Valladolid), from January of 1938 to the same month of 1942.
In 1948 he was accepted into the Real Academia Galega (RAG) and gave a speech on Rosalía de Castro. He died in 1966.
Downloads
Download data is not yet available.
References
Alonso, José Luís, «Datos para una biografía». En Victoriano Taibo, Revista de Estudos Miñoranos. Monografías 9-15. Gondomar: IEM, 2008.
Álvarez Castro, Xosé, Pontevedra nos anos do medo. Golpe militar e represión. Vigo: Xerais, 2013.
Beramendi, Justo, De provincia a nación. Historia do galeguismo político. Vigo: Xerais, 2007.
Fernández Rei, Francisco, «Apuntamentos sobre a presenza de Victoriano Taibo na Real Academia Galega e sobre o seu discurso "Rosalía precursora da fala"». En Victoriano Taibo, Revista de Estudos Miñoranos. Monografías 17-26. Gondomar: IEM, 2008.
Mato, Alfonso. O Seminario de Estudos Galegos. Sada: Castro, 2001.
Malheiro Gutiérrez, Xosé Manuel, «La modernización educativa en España en un escenario de cambio social y de apertura democrática. Conversaciones con Pedro Caselles Beltrán, Director General de Educación Básica (1976-1982)». Historia y Memoria de la Educación 14 (2021): 695-745.
Méixome, Carlos, Catas na memoria. A persecución franquista no Val de Miñor. Santiago: Laiovento, 2021.
Morente Valero, Francisco, La Escuela y el Estado Nuevo: la depuración del Magisterio Nacional (1936-1943). Valladolid: Ámbito Ediciones, 1997.
Porto Ucha, Anxo-Serafín, Mestras e mestres pontevedreses depurados polo franquismo. Ponteareas: Alén Miño, 2008.
Sánchez Cidrás, Arturo, «Leandro del Río Carnota, párroco de Lérez e candidato republicano (1931-1933)». Cedofeita (2017): 13-16.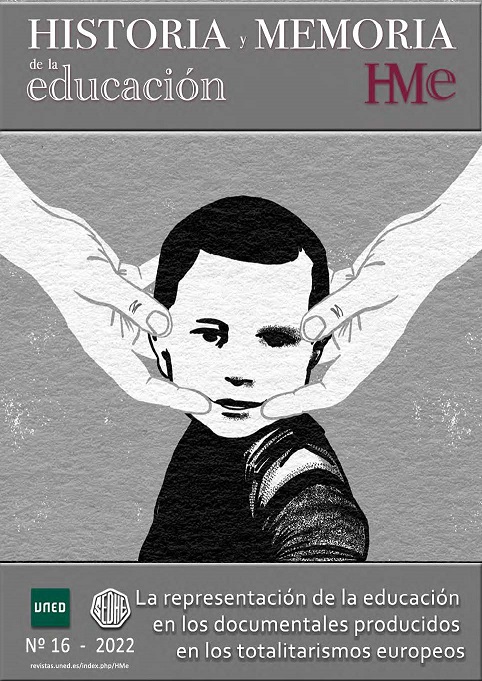 Downloads
How to Cite
Méixome, C. (2022). The political purge of Victoriano Taibo. Historia Y Memoria De La Educación, (16), 459–489. https://doi.org/10.5944/hme.16.2022.31265
Section
Historical Researches
License
Copyright (c) 2022 Historia y Memoria de la Educación
This work is licensed under a Creative Commons Attribution-NonCommercial 4.0 International License.
Authors who publish in Historia y Memoria de la Educación agree to the following terms:
Authors retain copyright and grant the journal right of first publication with the work simultaneously licensed under a Creative Commons Attribution License that allows others to share the work with an acknowledgement of the work's authorship and initial publication in this journal.
Authors are able to enter into separate, additional contractual arrangements for the non-exclusive distribution of the journal's published version of the work (e.g., post it to an institutional repository or publish it in a book), with an acknowledgement of its initial publication in this journal.
Authors are permitted and encouraged to post their work online (e.g., in institutional repositories or on their website) prior to and during the submission process, as it can lead to productive exchanges, as well as earlier and greater citation of published work (See The Effect of Open Access).