Terapia familiar y trastornos alimentarios
Palabras clave:
equipo de milán, anorexia, bulimia, paradoja, eclecticismo, terapia familiar, terapia individual
Resumen
El artículo repasa los distintos enfoques de terapia familiar sistémica que Mara Selvini Palazzoli y su equipo de Milán han ido siguiendo en el tratamiento de la anorexia y bulimia a lo largo del tiempo. El autor sugiere igualmente la conveniencia de la terapia individual para algunos casos de anorexia que presentan características especiales.
Descargas
Los datos de descargas todavía no están disponibles.
Citas
Austin, J. (1962). How to do things with words. Oxford: Oxford University Press..
Bercelli, F., Leonardi, P., & Viaro, M. (1998, en prensa). Forme di conversazione in psicoterapia. Applicazioni cliniche di analisi della conversazione. Milano: Cortina.
Goffman, E. (1974). Frame Analysis. Cambridge, Massachusetts: Harvard University Press. Gordon, R., A. (1990). Anorexia and Bulimia. Anatomy of a Social Epidemic. Oxford: Basic Blackwell Ldt.
Grice, P.H. (1975). Logic and conversation 2. In P. Cole & J.P. Morgan (Comps.), Syntax and semantics. Speech acts (pp. 41-58). New York: Academic Press. Reinpreso en: GRICE, H. P (1989). In the ways of words. Cambridge, Ma: Harvard UP, (pp. 22-40).
Leonardi, P., & Viaro, M. (1990). Conversazione e terapia. Milano: Cortina.
Sacks, H., Schegloff, E., & Jefferson, G. (1974). A symplest systematics for turn taking. Language, L, 696-735.
Schegloff, E., & Sacks, H. (1973). Opening up closings. Semiotica, viii, 289-327 schegloff e., Sacks, H., & Jefferson, G. (1977). The preference for self-correction in the organization of repair in conversation. Language, LIII, 361-82.
Schegloff, E. (1980) .Preliminaries to premininaries: "Can I ask you a question?". Sociological Inquiry, L, 104- 52.
Searle, J. (1969). Speech Acts. Cambridge: Cambridge University Press
Selvini Palazzoli, M. (1978). Self-starvation: From individual to family therapy in the treatment of anorexia nervosa. New York: Jason Aronson.
Selvini Palazzoli, M., Boscolo, L., Cecchin, G., & Prata, G. (1978). Paradox and counterparadox. New York: Jason Aronson.
Selvini Palazzoli, M., & Viaro, M. (1988). The anorectic process in the family: A six-stages model as a guide for individual therapy. Family Process, 27, 129-148.
Selvini Palazzoli, M., Cirillo, S., Selvini, M., & Sorrentino, A.M. (1988). I giochi psicotici nella famiglia. Milano: Cortina.
Viaro, M., & Leonardi, P. (1983). Getting and giving information: Analisys of a family-interview strategy. Family Process, 22 (1), 27-42.
Viaro, M., Leonardi, P., & Sbattella, F. (1984). Opposition und Obstruktionismus in der ersten Familiensitzung. Familiendynamik, 3/84, 254-277.
Viaro, M., & Leonardi, P. (1986). The evolution of the interview technique: A comparison between former and present strategy. Journal of strategic and systemic therapies, 5 (1-2), 14-30.
Viaro, M. (1988). Circular interviewing: rules and strategy. Seminar run at the Clarke Institute of Psychiatry, Toronto, June 1988.
Viaro, M. (1990). Session-Intersession Sequences in the Treatment of Chronic Anorectic-Bulimic Patients: Following the Model of "Family Games". Family Process, 29, 289-296.
Viaro, M., Pontalti, C., Calibbi, G., Capisani, C., Lovallo, M.T., Magnabosco, R., & Marchiori, M. (1997). What happened in the family when the schizophrenic patient improved? Case study. Seminar run at the III European Congress of Family Therapy, Barcelona, 1997.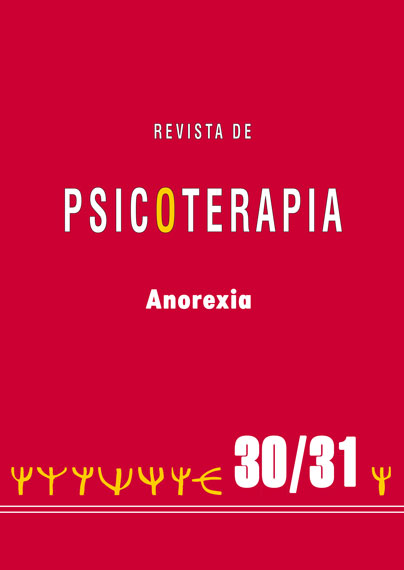 Cómo citar
Viaro, M. . (1997). Terapia familiar y trastornos alimentarios. Revista De Psicoterapia, 8(30/31), 93–109. https://doi.org/10.33898/rdp.v8i30/31.693
Sección
Artículo de monográfico