La Contribución de Kant a la Psicoterapia.
La importancia de los escritos de Kant en la tradición de la investigación ética en el campo de la psicoterapia.
Palabras clave:
Kant, ética moral, psicoterapia
Resumen
The study and integration of the ethics into the psychotherapeutic realm has a fundamental role in order to help therapist to take right decisions that will affect to the wellbeing of clients. For the purpose of this article Kant's perspective of Ethics is considered in order to offer a guidance to practitioners and to facilitate the resolution or understanding of ethical dilemmas that may arises within the psychotherapeutic encounter. Criticism to his work are taken into account with the aim to expand his view and to include the role of the emotions in the study of ethics and psychotherapy.
Descargas
Los datos de descargas todavía no están disponibles.
Citas
American Psychological Association (APA, 1992). Ethical principles of psychologists and code of conduct. American Psychologist, 47, 1597- 1611. http://dx.doi.org/10.1037/0003-066X.47.12.1597
Callender, J. S. (1998). Ethics and aims in psychotherapy: a contribution from Kant. Journal of Medical Ethics, 24, 274-278. http://dx.doi.org/10.1136/jme.24.4.274
Cohen, E. D. & Cohen G. S. (1999). The virtuous therapist: Ethical practice of counseling and psychotherapy. Pacific Grove, CA: Brooks/Cole-Wadsworth.
Johnson, R. & Cureton, A. (2019). Kant's Moral Philosophy. En E. N. Zalta, The Stanford Encyclopedia of Philosophy. Retrieved from: http://plato.stanford.edu/entries/kant-moral/#TelDeo
Kant, I. & Smith, N. K. (1929). Immanuel Kant's Critique of pure reason. Boston, MA: BedFord.
Kant, I. & Wolff, R. P. (1969). Foundations of the metaphysics of morals. Indianapolis, IN: Bobbs-Merrill. Rogers, C. R. (1961). On becoming a person; a therapist's view of psychotherapy. Boston, MA: Houghton Mifflin.
Singer, P. (1983). Hegel: A Very Short Introduction. Oxford, United Kingdom: Oxford University Press.
Stumpf, S. E. & Abel, D. C. (2001). Elements of Philosophy: An Introduction. New York, NY: McGraw-Hill Companies.
Paton, H. J. (1967). The categorical imperative; a study in Kant's moral philosophy. New York, NY: Harper & Row.
Palmer, F. & Murdin, L. (2001). Values and ethics in the practice of psychotherapy and counseling. Buckingham, United Kingdom: Open University Press.
Whittemore P. B. (2005). If Kant Was Director of Clinical Training. Journal of Theoretical and Philosophical Psy. 25(1), 91-105. http://dx.doi.org/10.1037/h0091253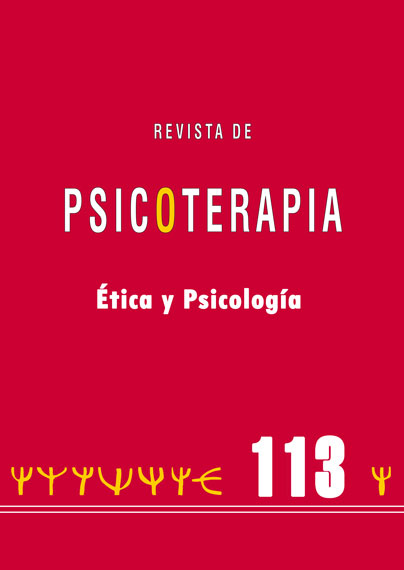 Descargas
Cómo citar
Sánchez Blanco, L. (2019). La Contribución de Kant a la Psicoterapia.: La importancia de los escritos de Kant en la tradición de la investigación ética en el campo de la psicoterapia. Revista De Psicoterapia, 30(113), 173–178. https://doi.org/10.33898/rdp.v30i113.294
Sección
Open Access: Artículos de monográfico