Los sistemas comportamentales interpersonales en la relación terapéutica.
Palabras clave:
relación terapéutica, sistema comportamental, interacción
Resumen
En este atículo los autores desarrollan el concepto de sistema comportamental que surge de la investigación etológica y de las teorías evolucionistas del comportamiento, aplicándolo al análisis de algunos fenómenos de la relación terapéutica, como guía para la conducción de ésta.
Descargas
Los datos de descargas todavía no están disponibles.
Citas
Bedrosian, R., & Beck, A.T. (1980). Principles of cognitive therapy. In M.J. Mahoney (Ed.), Psychotherapy process. New York: Plenum Press.
Bowlby, J. (1969). Attachment and loss, vol. 1. Attachment. London: Hogarth Press. (Trad. it., L'attaccamento alla madre. Torino: Boringhieri, 1980).
Bowlby, J. (1977). The making and breaking of affectional bonds. II. British Journal of Psychiatry, 130, 421- 431.
Bowlby, J. (1988). A secure base. London: Routledge.
Chance, M.R. (1984). Biological systems synthesis of mentality and the nature of the two modes of mental operation: hedonic and agonic. Man-Environment Systems, 14, 143-157.
Cooley, C.H. (1902). Human nature and the social order. New York: Scribner's.
De wall, F. (1989). Peacemaking among primates. Cambridge: Harvard University Press.
Dryden, W., & Golden, W. (1986). Cognitive-behavioral therapies: commonalities, divergences and future development. In W. Dryden & W. Golden (Eds.), Cognitive behavioral approaches to psychotherapy. London: Harper & Row.
Flavell, J. (1963). The developmental psychology of Jean Piaget. New York: Van Nostrand.
Frijda, N.H. (1986). The emotions. Cambridge: Cambridge Univ. Press.
Gilbert, P. (1989). Human nature and suffering. London: Lawrence Erlbaum Associates.
Greenberg, L., & Safran, J. (1987). Emotion in psychotherapy. New York: Guilford.
Guidano, V., & Liotti, G. (1983). Cognitive processes and emotional disorders. New York: Guilford.
Hinde, R. (1982). Ethology. Oxford: Oxford Univ. Press.
Intreccialagli, B., e Costantini, E. (1991). Una analisi cognitiva-evolutiva degli esiti del maltrattamento infantile in età adulta. Psicobiettivo, 11 (3).
Liotti, G. (1990). Il concetto di sistema comportamentale fra etologia e psicologia clinica. Rivista di Psicologia Clinica, 4, 176-187.
Liotti, G. (1991a). Il significato delle emozioni e la psicoterapia cognitiva. In T. Magri e F. Mancini (eds.), Emozioni e conoscenza. Roma: Editori Riuniti.
Liotti, G. (1991b). Patterns of attachment and the assessment of interpersonal schemata: understanding and changing difficult patient-therapist relationships in cognitive psychotherapy. Journal of Cognitive Psychotherapy, 5, 105-115.
Liotti, G., e La Rosa, C. (1991). Possibilità e limiti del concordar regole in psicoterapia. Psicobiettivo, 11 (2).
Mead, G. (1934). Mind, self and society. Chicago: University of Chicago Press.
Popper, K., & Eccles, J. (1977). The self and its brain. New York: Springer. SAFRAN, J. (1990). Toward a refinement of cognitive therapy in the light of interpersonal theory, I: Theory. Clinical Psychology Review, 10, 87-105.
Safran, J., & Segal, Z. (1990). Interpersonal process in cognitive therapy. New York: Basic Books.
Trower, P., & Gilbert, P. (1989). New theoretical conceptions of social anxiety and social phobia. Clinical Psychology Review, 9, 19-35.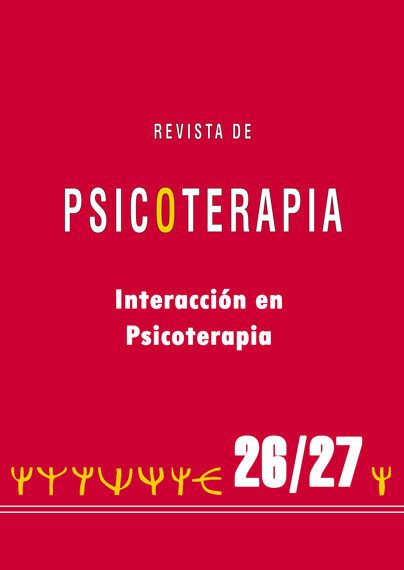 Cómo citar
Liotti , G. ., & Intreccialagli, B. (1996). Los sistemas comportamentales interpersonales en la relación terapéutica. Revista De Psicoterapia, 7(26-27), 13–24. https://doi.org/10.33898/rdp.v7i26-27.1022
Sección
Artículo de monográfico