Las respuestas que obtienes dependen de las preguntas que haces: la investigación en Psicoterapia revisitada [The Answers you get depend on the questions you ask: Psychotherapy Research Revisited]
Keywords:
Investigación en psicoterapia, modelo médico, integración en psicoterapia, factores comunes, pseudoterapias
Abstract
Resumen
Este trabajo aborda posibles respuestas a algunas de las preguntas que desconciertan en referencia al estatus de la investigación en psicoterapia, particularmente desde una llamada a revisar la inadecuación de una metáfora raíz con fuertes vínculos con el modelo médico. Concretamente se centra en los debates sobre (a) la proliferación de prácticas psicoterapéuticas, (b) la ausencia de eficacia diferencial significativa y (c) los criterios de demarcación entre terapias y pseudoterapias.
Abstract
This paper addresses possible answers to some of the puzzling questions regarding the status of psychotherapy research, particularly from a call to question the inadequacy of a root metaphor with strong links to the medical model. Specifically, it focuses on the debates on (a) the proliferation of psychotherapeutic practices, (b) the absence of significant differential efficacy and (c) the demarcation criteria between therapies and pseudotherapies
Downloads
Download data is not yet available.
References
Bernstein, S., Donsky, H., Gulliver, W., Hamilton, D., Nobel, S. y Norman, R. (2006). Treatment of mild to moderate psoriasis with Reliéva, a Mahonia aquifolium extract--a double-blind, placebo-controlled study. American Journal of Therapeutics, 13, 121–126. https://doi.org/10.1097/00045391-200603000-00007
Bohart, A. C., O'Hara, M. y Leitner, L. M. (1998). Empirically Violated Treatments: Disenfranchisement of Humanistic and other Psychotherapies. Psychotherapy Research, 8(2), 141–157. https://doi.org/10.1093/ptr/8.2.141
Bohart, A. C. y Tallman, K. (1999). How Clients make Therapy Work: The Process of Active Self-Healing. American Psychological Association.
Botella, L. (2007). Potential uses of fuzzy logic: Applying Fuzzy Cognitive Maps (FCMs) in psychotherapy. Revista Argentina de Clínica Psicológica, 16, 103–119.
Botella, L. (En prensa). La Construcción del Cambio Terapéutico: Terapia Constructivista Integradora en la Práctica Clínica. Desclée de Brouwer.
Botella, L. y Feixas, G. (1998). Teoría de los constructos personales: Aplicaciones a la practica psicológica. Laertes.
Botella, L. y Gallifa, J. (1995) A Constructivist Approach to the Development of Personal Epistemic Assumptions and Worldviews. Journal of Constructivist Psychology, 8(1), 1–18, https://doi.org/10.1080/10720539508405238
Cumming, G. (2012). Understanding the new statistics: Effect sizes, confidence intervals, and meta-analysis. Routledge/Taylor & Francis Group.
Eells, T. (2007). Generating and Generalizing Knowledge about Psychotherapy from Pragmatic Case Studies. Pragmatic Case Studies in Psychotherapy, 3(1), 35–54. https://doi.org/10.14713/pcsp.v3i1.893
Feixas, G., Bados, A., García-Grau, E., Montesano, A., Dada, G., Compañ, V., Aguilera, M., Salla, M., Soldevilla, J. M., Trujillo, A., Paz, C., Botella, L., Corbella, S., Saúl-Gutiérrez, L. A., Cañete, J., Gasol, M., Ibarra, M., Medeiros-Ferreira, L., Soriano, J.,… Winter, D. (2013). Efficacy of a Dilemma-Focused Intervention for Unipolar Depression: Study Protocol for a Multicenter Randomized Controlled Trial. Trials 14, Artículo 144. https://doi.org/10.1186/1745-6215-14-144
Feixas, G., Paz, C., García-Grau, E., Montesano, A., Medina, J. C., Bados, A., Trujillo, A., Ortiz, E., Compañ, V., Salla, M., Aguilera, M., Guasch, V., Codina, J. y Winter, D. (2018). One-year follow-up of a Randomized Trial with a Dilemma-Focused Intervention for Depression: Exploring an Alternative to Problem-Oriented Strategies. PLoS ONE, 13(12). Artículo e0208245. https://doi.org/10.1371/journal.pone.0208245
Fernández, J. (16 de diciembre de 2019). España ampliará antes de 2020 su 'lista oficial' de pseudociencias. Redacción Médica. https://www.redaccionmedica.com/secciones/ministerio-sanidad/espana-ampliara-antes-de-2020-su-lista-oficial-de-pseudociencias-2792
Garfield, S. y Bergin, A. (1994). Introduction and Historical Overview. En A. Bergin y S. Garfield (Eds.), Handbook of Psychotherapy and Behaviour Change (pp. 3–18). Wiley.
Keeney, B. P. (1983). The Aesthetics of Change. Guilford.
Kuhn, T. S. (1957). The Copernican revolution: Planetary astronomy in the development of Western thought. Harvard University Press.
Lakatos, I. (1978). The Methodology of Scientific Research Programmes. Cambridge University Press.
Lakoff, G. y Johnson, M. (2003). Metaphors we Live by. University of Chicago Press.
Maher, B. A. (Ed.). (1969). Clinical Psychology and Personality: The Selected Papers of George Kelly. Krieger.
Ministerio de Sanidad, Consumo y Bienestar Social y Ministerio de Ciencia, Innovación y Universidades. (2018). Plan para la Protección de la Salud frente a las Pseudoterapias. https://www.mscbs.gob.es/gabinetePrensa/notaPrensa/pdf/20181141118135247771.pdf
Moras, K. y Shea, M. T. (2010). Irene Elkin: "The data are always friendly". En L. G. Castonguay, J. C. Muran, L. Angus, J. A. Hayes, N. Ladany, & T. Anderson (Eds.), Bringing Psychotherapy Research to Life: Understanding Change through the Work of Leading Clinical Researchers (pp. 77–88). American Psychological Association. https://doi.org/10.1037/12137-007
Pepper, S. (1942). World Hypotheses. University of California Press.
Pinheiro, R. T., Botella, L., de Avila Quevedo, L., Pinheiro, K. A. T., Jansen, K., Osório, C. M., Farias, A., D. y da Silva, R. A. (2013). Maintenance of the Effects of Cognitive Behavioral and Relational Constructivist Psychotherapies in the Treatment of Women with Postpartum Depression: A Randomized Clinical Trial. Journal of Constructivist Psychology, 27(1), 59–68. https://doi.org/10.1080/10720537.2013.814093
Prochaska, J. O. y Norcross, J. C. (2003). Systems of Psychotherapy: A Transtheoretical Analysis. Brooks/Cole Pub.
Shean, G. (2014). Limitations of Randomized Control designs in psychotherapy research. Advances in Psychiatry, 2014, Artículo ID 561452. https://doi.org/10.1155/2014/561452
Vallejo, J. (1985). Introducción (II). En J. Vallejo, A. Bulbena, A. González, A. Grau, J. Poch y J. Serrallonga (Eds.), Introducción a la psicopatología y la psiquiatría (pp. 26-54). Salvat.
Wampold, B., Imel, Z. (2015). The Great Psychotherapy Debate. Routledge. https://doi.org/10.4324/9780203582015
Watzlawick, P. (1984). The Invented Reality: How Do we Know what we Believe we Know? Contributions to Constructivism. Norton.
Wittgenstein, L. (1922). Tractatus Logico-Philosophicus. Routledge & Kegan Paul.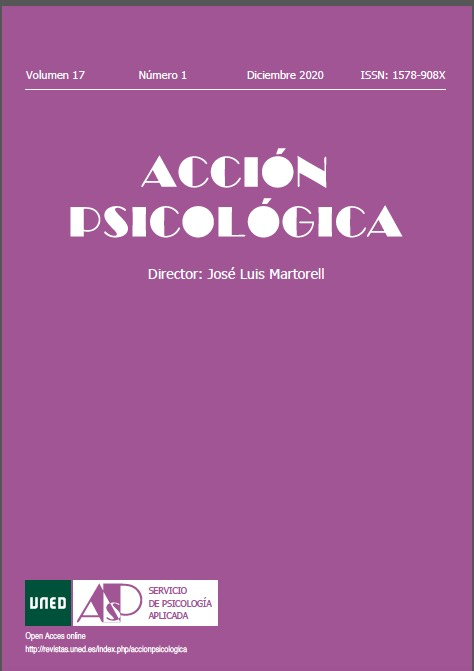 Downloads
How to Cite
Botella, L. (2021). Las respuestas que obtienes dependen de las preguntas que haces: la investigación en Psicoterapia revisitada [The Answers you get depend on the questions you ask: Psychotherapy Research Revisited]. Acción Psicológica, 17(1), 1–12. https://doi.org/10.5944/ap.17.1.27809
Section
Artículos de temática libre [Selection of articles]