Neuropsychological assessment in addiction: A clinical guideline
Keywords:
recommendations, neuropsychological assessment, treatment, addiction
Abstract
The aim of this article is to provide rommendations for neuropsychological assessment in the con­text of addiction treatment. I propose key basic guidelines to conduct neuropsychological as­sessment in two contexts: (1) profiling of cognitive sequela as­sociated  with substance use; (2) prediction of treat­ment otcomes, in terms of retention and ad­herence to addiction treatment, and risk of relapse. I also discuss novel therapeutic approaches spurred by a neuropsychological understanding of substance use disorders. These recommendations are aimed to fos­ter the transition between neuroscientific discovery and clinical translation, by providing basic guidelines to incorporate neuropsychological tools in clinical practice with addicted clients. 
Downloads
Download data is not yet available.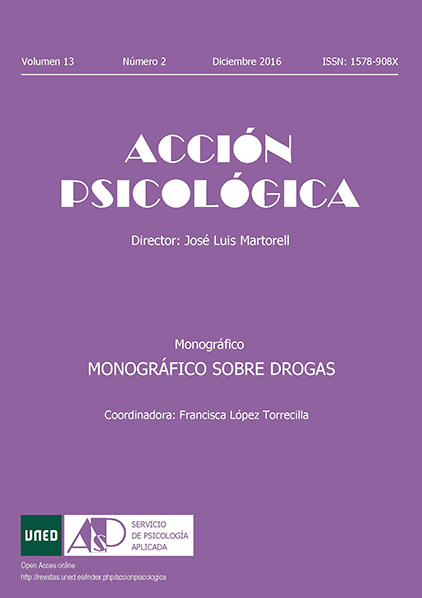 Downloads
How to Cite
Verdejo-García, A. (2016). Neuropsychological assessment in addiction: A clinical guideline. Acción Psicológica, 13(1), 1–6. https://doi.org/10.5944/ap.13.1.17392
Section
Artículos del monográfico [Monograph´s articles]
License
Accion Psicologica is published under Creative Commons Attribution-Non Commercial (CC BY-NC). The opinions and contents of the articles published in Acción Psicológica are responsibility of the authors and do not compromise the scientific and political opinion of the journal. Authors are also responsible for providing copies of the raw data, ratings, and, in general, relevant experimental material to interested readers.