The Foundations of Alterity. Husserl on Referencing and Indicating
Palabras clave:
Husserl, Referencing, Alterity, Science,
Resumen
The aim of this paper is to dig out the fundamental structure that underlies Husserl's description of two basic aspects of the alterity to the self, namely the world and the Other. This structure is a referential and indicating scheme: the problem of reference and indication lies at the base of the constitution of the things in the world, where the front-side refers to the rear-side, and in the experience of another human being, where his body is always already referring to mine.
This structure poses a number of serious problems for the phenomenological project as such, most notably in its claim of founding a scientific philosophy: it is difficult to understand how we can ground a pure phenomenological philosophy on the alterity of the Other and on the alterity of the world if this very alterity is based on an "impure" (mediated) element, an element which Husserl himself ruled out of his conception since every Gegebenheit must be Selbstgegebenheit.
Descargas
Los datos de descargas todavía no están disponibles.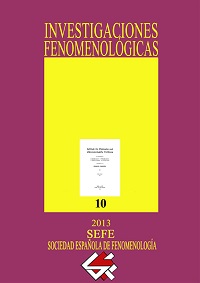 Descargas
Cómo citar
D'Angelo, D. (2014). The Foundations of Alterity. Husserl on Referencing and Indicating. Investigaciones Fenomenológicas, (10), 53–71. https://doi.org/10.5944/rif.10.2013.11874
Licencia

Reconocimiento (by): Se permite cualquier explotación de la obra, incluyendo una finalidad comercial, así como la creación de obras derivadas, la distribución de las cuales también está permitida sin ninguna restricción.