Nota informativa sobre el encuentro anual de la SEPI (Society for the Exploration of Psychotherapy Integration)
Palabras clave:
SEPI, encuentro anual
Resumen
Nota informativa encuentro anual SEPI
Descargas
Los datos de descargas todavía no están disponibles.
Citas
Andrews, J. (1989). Psychotherapy of depression: A self-confirmation model. Psychological Review, d, 516-
Andrews, J. (en prensa). The active self in psychotherapy. Boston: Allyn & Bacon.
Horowitz, M. J. (1979). States of mind. New York: Plenum.
Horowitz, M. J. (1988). Psychodynamics and cognition. Chicago: University of Chicago Press.
Horowitz, M. J., Marmar, C., Krupnick, J., Wilner, N., Kaltreider, y Wallerstein, R. (1984). Personality
styles and brief psychotherapy. New York: Basic Books.
Neimeyer, R. A. y Feixas, G. (1990). Constructivist contributions to psychotherapy integration. Journal of
Eclectic and Integrative Psychotherapy, 9, 4-20.
Rychlak, J. (1988). Personalidad y psicoterapia. MEÉxico: Trillas. (Original 1981)
Schwartz, R. M. y Garamoni, G. L. (1986). A structural model of positive and negative states of mind:
Asymmetry in the internal dialogue. En P. C. Kendall (ed.), Advances in cognitive-behavioral research
and therapy (vol. 5). New York: Academic Press.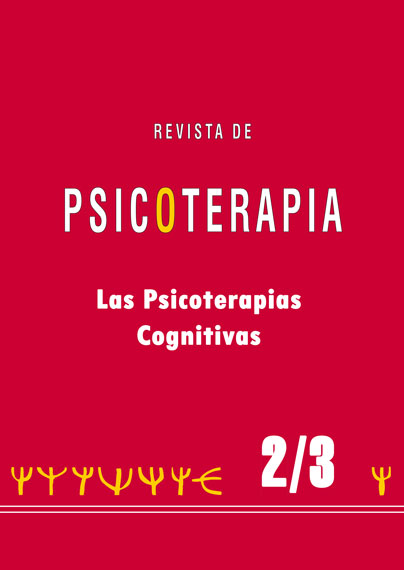 Cómo citar
Feixas i Viaplana, G. (1990). Nota informativa sobre el encuentro anual de la SEPI (Society for the Exploration of Psychotherapy Integration). Revista De Psicoterapia, 1(2/3), 131–134. https://doi.org/10.33898/rdp.v1i2-3.672
Sección
Artículo de monográfico