Niveles de conciencia emocional: implicaciones para la integración en psicoterapia
Palabras clave:
proceso de la emoción, conciencia emocional
Resumen
Los autores aplican un marco de desarrollo cognitivo para entender las diferencias individuales en la expresión y experiencia emocional delante del problema de seleccionar y combinar modalidades de tratamiento para los pacientes con trastornos mentales. Se enfatiza la presentación clínica de los cinco niveles de conocimiento emocional y las implicaciones de cada nivel al seleccionar de un amplio abanico de modalidades de tratamiento, incluyendo las terapias farmacológicas, de comportamiento, cognitivas, y orientadas a la comprensión. El ajuste de la intervención terapéutica con la psicopatología se basa en la teoría que la forma en que el cliente procesa la emoción determina los factores claves de la psicopatología y la forma en que el terapeuta procesa o entiende las intervenciones. Este modelo puede servir como una herramienta útil de aprendizaje; ayuda a optimizar la eficiencia y la eficacia del tratamiento e influye el método de trabajo de los profesionales de la salud mental.
Descargas
Los datos de descargas todavía no están disponibles.
Citas
Arkowitz, H. (1992). Integrative theories of therapy. In D. Freedheim (Ed.), The history of psychotherapy: A century of change. Washington, D.C.: American Psychological Association.
Beck, A.T. (1976). Cognitive therapy and emotional disorders. New York: International University Press.
Beitman, B.D. & Klerman, G.L. (Eds) (1991). Integrating pharmacotherapy and psychotherapy. Washington; DC: American Psychiatric Press.
Beutler, L.E. & Clarkin, J. (1990). Differential treatment selection: toward targeted therapeutic interventions. New York: Brunner Mazel.
Blatt, S. (1974). Levels of object representation in anaclictic and introjective depression. Psychoanalytic Study Child, 29, 105-157.
Chevron, E.S., Quinlan, D.M. & Blatt, S.J. (1978). Sex roles and gender differences in the experience of depression. Journal of Abnormal Psychology, 87, 680-683.
Davir, M.R. (1985). Perceptual and affective reverberation components. In A.P. Goldstein & G.Y. Michael (Eds.), Empathy: Develoment, training and consequences (pp. 62-108) Hillsdale, NJ: Lawrence Erlbaum.
Dimascio, A., Weissman, M.M, Prusoff, B.A., Neu, C., Zwilling, M. & Klerman, G.L. (1979). Differential sympthom reduction by drugs and psychotherapy in acute depression. Archives of General Pychiatry, 36, 1450-1456.
Draguns, J.G. (1981). Why microgenesis? An inquiry on the motivational sources of going beyond the information given. Psychological Research Bulletin, 21, 1-22.
Flavell, J.H. (1963). The developmental psychology of Jean Piaget. New York: Van Nostrand.
Frances, A., Clarkin, J. & Perry, S. (Eds.) (1984). Differential therapeutics in psychiatry. New York: Brunner Mazel.
Frank, J.D. (1982). Therapeutic components shared by all psychotherapies. In J.H. Harvey & M.M. Parks (Eds.), Psychotherapy research and behavior change (The Master Lecture Series, Vol 1: pp. 73-122). Washington, DC: American Psychological Association.
Frankl, V.E. (1967). Psychotherapy and existentialism. New York: Washington Square Press.
Greenberg, L.S. & Safran, J.D. (1987). Emotion in psychotherapy: Affect, cognition and the process of change. New York: Guilford.
Greenberg, L.S. & Safran, J.D. (1989). Emotion in psychotherapy. American Psychologist, 44, 19-29.
Hales, R.E. & Frances, A.J. (Eds.) (1987). Psychiatry update: The American Psychiatric Association Annual Review (Vol VI) Washington, DC: American Psychiatric Press.
Karasu, T.B. (1982). Psychotherapy and pharmacotherapy: toward an integrative model. American Journal of Pychiatry, 139, 1102-1113.
Klein, D.F., Ross, D.C. & Cohen, P. (1987). Panic and avoidance in agoraphobia. Archives of General Psychiatry, 44, 337-385.
Kohlberg, L. (1969). Stage and sequence. The cognitive-developmental approach to socialization. In D.A. Goslin (Ed.), Handbook of socialization theory and research (pp. 347-480). New York: Rand McNally.
Lane, R.D., Quinlan, D.Q., Schwartz, G.E., Walker, P.A., & Zeiltin, S.B. (1990). The levels of emotional awareness scale: A cognitive -developmental measure of emotion. Journal of Personality Assessment, 55, 124-134.
Lane, R.D. & Schwartz, G.E. (1987). Levels of emotional awareness: A cognitive-developmental theory and its application to psychopathology. American Journal of Psychiatry, 144, 133-143.
Lazarus, A.A. (1981). The practice of multimodal therapy. New York: Mcgraw-Hill.
Loevinger, J. & Wessler, R. (1970). Measuring ego development, Volume I: Construction and use of a sentence completion test. San Francisco: Jossey Bass.
Malan, D.H. (1979). Individual psychotherapy and the science of psychodynamics. Boston: Butterworth & Co.
Novey, S. (1959). The technique of supportive therapy in psychiatry and psychoanalysis. Psychiatry, 22, 179-187.
Selman, R.L., Beardslee, W., Schultz, L.H., Krupa, M. & Podorefsky, D. (1986). Assessing adolescent interpersonal negotiation strategies: toward the integration of structural and functional models. Development Psychology, 22, 450-459.
Stern, D.N. (1985). The interpersonal world of the human infant. New York: Basic Books.
Wachtel, P.L. (1977). Psychoanalysis and behavior therapy: toward and integration. New York: Basic Books.
Werner, H. & Kaplan, B. (1963). Symbol formation: An organismic-developmental approach to language and the expression of thought. New York. Wiley.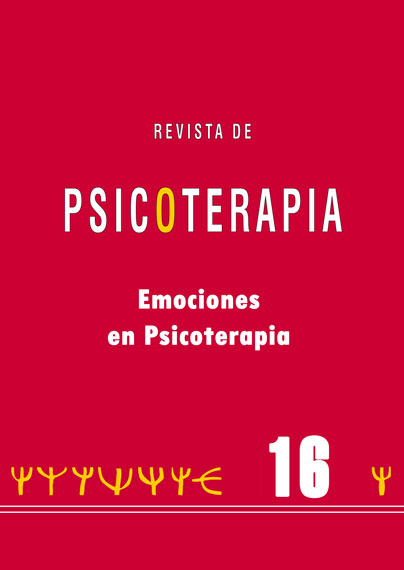 Cómo citar
D. Lane, R., & E. Schwartz, G. (1993). Niveles de conciencia emocional: implicaciones para la integración en psicoterapia. Revista De Psicoterapia, 4(16), 21–37. https://doi.org/10.33898/rdp.v4i16.1048
Sección
Artículo de monográfico