Relaciones entre habilidades psicológicas y lesiones deportivas en softbolistas cubanas de élite [Relationships between Psychological Skills and Sports Injuries in Elite Cuban Softball Players]
Keywords:
Habilidades Psicológicas, Lesiones Deportivas, Softbol [Psychological Skills, Sports Injuries, Softball].
Abstract
Resumen
La presente investigación se realiza en el campo de las lesiones en el deporte con el propósito de identificar su relación con las habilidades psicológicas de ejecución deportiva. Se realizó un estudio de 21 deportistas femeninas de alto rendimiento integrantes del equipo nacional cubano de Softbol a las que se les aplicó el Cuestionario de Aspectos Deportivos y Lesiones y el Inventario Psicológico de Ejecución Deportiva. Los resultados muestran un alto porcentaje de lesiones en las deportistas, cuyo perfil psicológico grupal se encuentra configurado por elevados niveles de Autoconfianza, Nivel Motivacional, Control de Afrontamiento Positivo y Control de la Actitud. Además se evidencia que las deportistas con menor autoconfianza, control emocional y de la actitud se han lesionado en más oportunidades y han presentado lesiones de mayor gravedad respectivamente. También se muestra que dentro del grupo de deportistas con antecedentes de lesiones existen diferencias estadísticamente significativas, ya que poseen valores medios inferiores de autoconfianza y control de afrontamiento negativo las que más lesiones han sufrido. Se discuten los resultados.
Abstract
The present research is framed in the field of sports inju­ries, having as object of study its relation with the psycho­logical skills of sports performance. A study of 21 high-performance female athletes members of the Cuban na­tional softball team was carried out, to which the Sports Aspects and Injuries Questionnaire and the Psychological Inventory of Sports Execution were applied. The results show a high percentage of injuries in athletes, whose group psychological profile is configured by high levels of Self-Confidence, Motivational Level, Positive Coping Control and Attitude Control. It is also evidenced that ath­letes with less self-confidence, emotional control and atti­tude have been injured in more opportunities and have pre­sented more serious injuries respectively. It is also shown that within the group of athletes with a history of injuries there are statistically significant differences, since they have lower average values of self-confidence and negative coping control those who have suffered the most injuries. The results are discussed.
Downloads
Download data is not yet available.
References
Andersen, M. B. y Williams, J. M. (1988). A Model of Stress and Athletic Injury: Prediction and Prevention. Journal of Sport and Exercise Psychology, 10, 294–306. https://doi.org/10.1123/jsep.10.3.294
Berengüí, R., López, J. M., Garcés de los Fayos, E. J. y Almarcha, J. (2011). Factores Psicológicos y lesiones deportivas en lucha Olimpica y Taekwondo [Psychological Factors and Sports Injuries in Olympic Wrestling and Taekwondo]. Revista de Ciencias del Deporte, 7, 91–98.
Berengüí, R., Garcés de los Fayos, E. J. y Hidalgo, M. D. (2013). Características psicológicas asociadas a la incidencia de lesiones en deportistas de modalidades individuales [Psychological Characteristics Associated with the Incidence of Sports Injuries in Athletes of Individual Sport]. Anales de Psicología, 29(3), 674–684. https://doi.org/10.6018/analesps.29.3.175811
Berengüí, R. y Puga, J. L. (2015). Predictores psicológicos de lesión en jóvenes deportistas [Psychological Predictors of Injury in Young Athletes]. Revista Costarricense de Psicología, 34(2), 113–129.
García, C., Albaladejo, R., Villanueva, R. y Navarro, E. (2015). Deporte de ocio en España: epidemiología de las lesiones y sus consecuencias [Epidemiological Study of Sports Injuries and their Consequences in Recreational Sport in Spain]. Apuntes Educación Física y Deportes, 119(1), 62–70. https://doi.org/10.5672/apunts.2014-0983.es.(2015/1).119.03
González-Reyes, A., Moo, J. y Olmedilla, A. (2017). Características psicológicas que influyen en las lesiones deportivas de triatletas amateurs de Yucatán, México [Psychological Characteristics that influence Sports Injuries of Amateur Triathletes from Yucatan, Mexico]. Revista de Psicología del Deporte. 26(2), 71–77.
Hernández, A. (2006). Un cuestionario para la evaluación psicológica de la ejecución deportiva: estudio complementario entre TCT y TRI [A Questionnaire for the Psychological Assessment of Sports Performance: Acomplementary Study between the TCT and IRT]. Revista de Psicología del Deporte, 15(1), 71–93.
Hernández-Mendo, A., Morales-Sánchez, V. y Peñalver, I. (2014) Replicación de las propiedades psicométricas del Inventario Psicológico de Ejecución Deportiva [A Replication of the Psychometric Properties of the Sports Performance Psychological Inventory]. Revista de Psicología del Deporte. 23(2), 311–324.
Herring, S. A., Kibler, W. B. y Putukian, M. (2017) Psychological Issues Related to Illness and Injury in Athletes and the Team Physician: a Consensus Statement. Current Sports Medicine Reports, 16(3), 189–201. https://doi.org/10.1249/JSR.0000000000000359
Loehr, J. E. (1986). Mental Toughness Training for Sports: Achieving Athletic Excellence. Stephen Greene Press.
Olmedilla, A., García, C. y Martínez, F. (2006). Factores Psicológicos y Vulnerabilidad a las Lesiones Deportivas: Un Estudio en Futbolistas [Psychological Factors and Vulnerability to Sports Injuries in Soccer Players]. Revista de Psicología del Deporte, 15(1), 37–52.
Olmedilla, A., García, A. (2009). El modelo global psicológico de las lesiones deportivas [A Global Psychologic Model of the Sportive Injuries]. Acción Psicológica 6(2), 77–91.
Padegimas, E. M., Stepan, J. G., Stoker, G. E., Polites, G. M. y Brophy, R. H. (2016). Epidemiology and Severity of Sports and Recreation Injuries Presenting to a Tertiary Adult Emergency Department. The Physician and Sports Medicine, 44(3), 263–268. http://doi.org/10.1080/00913847.2016.1171683.
Pujals, C., Rubio, V. J., Márquez, M. O., Sánchez-Iglesias, I. y Ruiz, R. (2016). Comparative Sport Injury Epidemiological Study on a Spanish Sample of 25 Different Sports. Revista de Psicología del Deporte/Journal of Sport Psychology, 25(2), 271–279.
Prieto, J. M., Palmeira, A. L. y Olmedilla, A. (2015). Ansiedad Competitiva, Competitividad y Vulnerabilidad a la Lesión Deportiva [Competitive Anxiety, Competitiveness and Vulnerability to Sports Injury: Risk Profiles]. Revista Iberoamericana de Psicología del Ejercicio y el Deporte, 10(2), 293–300.
Raimundi, M. J., Reigal, R. E. y Hernández Mendo, A. (2016). Adaptación argentina del Inventario Psicológico de Ejecución Deportiva (IPED): validez, fiabilidad y precisión [Argentinian Adaptation of the Sport Performance Psychological Inventory: Validity, Reliability, and Accuracy]. Cuadernos de Psicología del Deporte, 16(1), 211–222.
Ríos, J., Pérez, Y., Fuentes, E., De Armas, M. (2019). Efecto de las lesiones deportivas sobre variables psicológicas en lanzadores de Béisbol [Effect of Sports Injuries on Psychological Variables in Pitchers of baseball]. Revista de Ciencia y Tecnología en la Cultura Física, 14(3), 403–415.
Schinke, R. J., Stambulova, N. B., Sic. G. y Moore, Z. (2018). International society of sport psychology position stand: Athletes' mental health, performance, and development. International Journal of Sport and Exercise Psychology, 16(6), 1–18. https://doi.org/10.1080/1612197X.2017.1295557
Soligard, T., Schwellnus, M., Alonso, J. M., Bahr, R., Clarsen, B., Dijkstra, H. P. y Engebretsen, L. (2016). How Much is Too Much? (Part 1) International Olympic Committee consensus statement on load in sport and risk of injury. British Journal of Sports Medicine. 50, 1030–1041. https://doi.org/10.1136/bjsports-2016-096581.
Véliz, C., Maureira, F., Laurido, J. M., Carmi, N. y Cortés, R. (2018). Propiedades psicométricas del inventario psicológico de ejecución deportiva (IPED) en una muestra de nadadores de Chile [Psychometric Properties of the Psychological Inventory of Sports Execution (IPED) in a Swimmer Sample of Chile]. Revista Ciencias de la Actividad Física, 19(2), 1–10. https://doi.org/10.29035/rcaf.19.2.3
Zurita-Ortega, F., Rodríguez, M., Olmo, M., Castro, R. Chacón, M. y Cepero, M. (2017). Análisis de la resiliencia, ansiedad y lesión deportiva en fútbol según el nivel competitivo [Analysis of Resilience, Anxiety and Sports Injuries in Soccer by Competition Level]. Deporte, 12, 135–142.
Zurita, F., Fernández, R., Cachón, J., Linares, D. y Pérez, A. J. (2014). Aspectos psicosomáticos implicados en las lesiones deportivas [Psycosomatic aspects involved in the sports injuries]. Cuadernos de Psicología del Deporte, 14(2), 81–88.
Williams, M. B. y Andersen, M. B. (1998). Psychological Antecedents of Sport Injury: Review and Critique of the Stress and Injury Model. Journal of Applied Sport Psychology, 10(1), 5–25. https://doi.org/10.1080/10413209808406375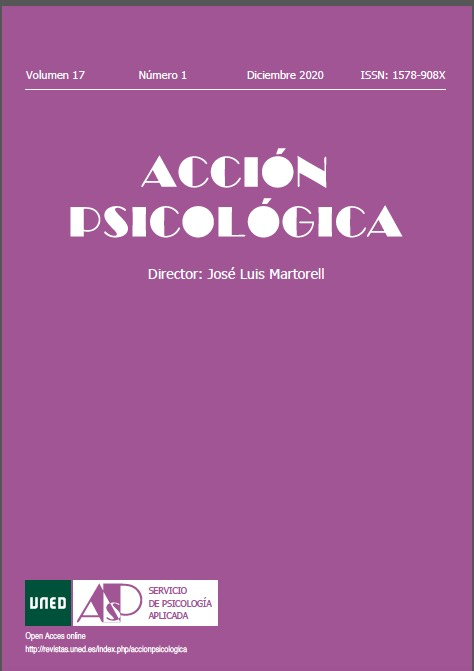 Downloads
How to Cite
Ríos Garit, J., & Pérez Surita, Y. (2021). Relaciones entre habilidades psicológicas y lesiones deportivas en softbolistas cubanas de élite [Relationships between Psychological Skills and Sports Injuries in Elite Cuban Softball Players]. Acción Psicológica, 17(1), 91–102. https://doi.org/10.5944/ap.17.1.26607
Section
Artículos de temática libre [Selection of articles]