Predictors of fear and social skills in adolescents in the multicultural context of Ceuta
Keywords:
fear, social skills, pluricultural context
Abstract
The main objective of this paper is to reflect the pre­dictors of Fear and Social Skills, and the influence over each other, of teenagers from 12 to 18 in the city of Ceuta. To make it possible we focused on 557 participants from 4 different high schools that clearly reflect the city's pluricultural features; 45.8 % of them are boys and 54.2 % are girls; 64.5 % are Mus­lims and 35.5 % are Christians. The techniques used in this survey are Fear Survey Schedule for Children (FSSC-II), adapted for its use in the Spanish language by Ascensio et al. (2012) as well as the EHS (Gis­mero, 2000). The results show medium-low levels on Fear and medium-high levels on Social Skills. The Social Skills only are influenced by the sociodemo­graphic factors of gender and custom/religion. The Fear is influenced only by gender and cus­toms/religion. We have also found a relationship between Fear and Social Skills
Downloads
Download data is not yet available.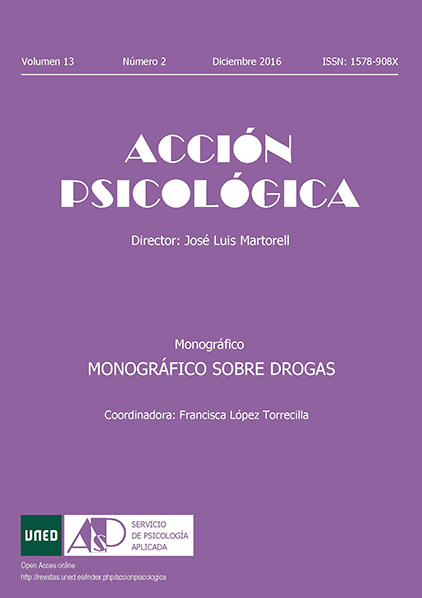 Downloads
How to Cite
Pulido Acosta, F., & Herrera Clavero, F. (2016). Predictors of fear and social skills in adolescents in the multicultural context of Ceuta. Acción Psicológica, 13(1), 179–190. https://doi.org/10.5944/ap.13.1.15560
Section
Artículos de temática libre [Selection of articles]