The Phenomenological Problem of Sense Data in Perception: Aaron Gurwitsch and Edmund Husserl on the Doctrine of Hyletic Data
Palabras clave:
hyletic data, sense data, noesis, noema, Gestalt, perception, Husserl, Gurwitsch,
Resumen
In this article, I will discuss Aron Gurwitsch's criticism of Edmund Husserl's theory of hyletic data. First, Husserl's doctrine will be summarized in its earliest complete formulation. It will then be seen that Gurwitsch's problem with this doctrine is primarily due to his acceptance of gestalt theoretic organization. He conceives of hyletic data as being a kind of formless stuff that undergoes organization by morphetic components of the noesis, which represents a dualism in perception. Instead, Gurwitsch wants to show us that the organization of these contents is autochthonous. I will consider Gurwitsch's criticism against Husserl's own writings, and especially those that were not available to Gurwitsch. It will be seen that Husserl continues to develop this doctrine and that it very interestingly undergoes a kind of noematization and exhibits certain displays of autochthonous organization that in the end are not far from Gurwitsch's own conception of these affairs
Descargas
Los datos de descargas todavía no están disponibles.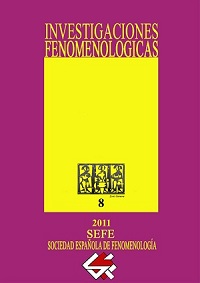 Descargas
Cómo citar
Marcelle, D. (2011). The Phenomenological Problem of Sense Data in Perception: Aaron Gurwitsch and Edmund Husserl on the Doctrine of Hyletic Data. Investigaciones Fenomenológicas, (8), 61–76. https://doi.org/10.5944/rif.8.2011.610