Improv to improve: the importance of philosophy in the university
Palabras clave:
improvisación, materialismo, fenomenología, reduccionismo, improvisation, materialism, phenomenology, reductionism
Resumen
The status of philosophy is contingent upon the civilizations that embrace or undermine its importance. Such status is never fully understood, nor clear, due in part to its inutility. In a goal-oriented world, philosophizing is pointless if it does not produce material results. One point of philosophy though is not only to recognize, but promote activities which are uniquely human and which therefore artificial intelligence could not possibly simulate. Improvisation, as one such activity, can reveal the importance of philosophy as a discipline by maintaining the relevance of subjectivity. In order to justify the presence of philosophy in the university, one important way is to have philosophy maintain the notion that the mental cannot be reduced to the material or physical. Consequently, phenomenology in philosophy's defense becomes more relevant the more we realize that philosophy is threatened by the interdependency of materialism, A.I. research, and the corporatization of the university.
El estatus de la filosofía nunca llega a ser completamente comprendido debido, en parte, a su inutilidad. En un mundo enfocado hacia las metas, filosofar no sirve si no produce resultados materialistas. Un aspecto del pensamiento filosófico es promover actividades que son exclusivamente humanas y por lo tanto imposibles de simular por una inteligencia artificial. La improvisación es capaz de revelar la importancia de la filosofía manteniendo la relevancia de la subjetividad. Con el fin de justificar la presencia de la filosofía en la universidad, una manera importante es que ésta mantenga la idea de que lo mental no puede ser reducido a lo material o a lo físico. Por lo tanto, la fenomenología, en defensa de la filosofía, llega a ser mas relevante cuanto más conscientes somos de que la filosofía está amenazada por la interdependencia del materialismo, la Inteligencia Artificial y la corporativización de la universidad.
Descargas
Los datos de descargas todavía no están disponibles.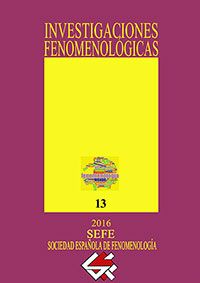 Descargas
Cómo citar
Stevenson, K. (2021). Improv to improve: the importance of philosophy in the university. Investigaciones Fenomenológicas, (13), 193–216. https://doi.org/10.5944/rif.13.2016.29628
Licencia

Reconocimiento (by): Se permite cualquier explotación de la obra, incluyendo una finalidad comercial, así como la creación de obras derivadas, la distribución de las cuales también está permitida sin ninguna restricción.