Relapse in Smokers Who Quit with a Psychological Treatment: A Gender Issue?
Keywords:
relapse, smoking, gender, psychological treatment
Abstract
Although we have effective treatments for tobacco dependence, relapse is a frequent phenomenon in those who quit. The aim of this study was to analyze whether there were differences by gender in the relapse curve in men and women who participated in a cognitive-behavioral smoking cessation treatment. The sample was composed of 266 individuals (59.8 % women) who were abstinent at the end of treatment. The results indicate that as time after the intervention increases, the percentage of abstinent participants decreases. However, no significant differences between men and women in the relapse curve were found, which could be explained by the inclusion of effective psychological tools to cope with some of the main causes of relapse (e.g., negative affect) in the treatment. Given the importance of relapse in the smoking cessation process, it is necessary to deepen in its triggers.
Downloads
Download data is not yet available.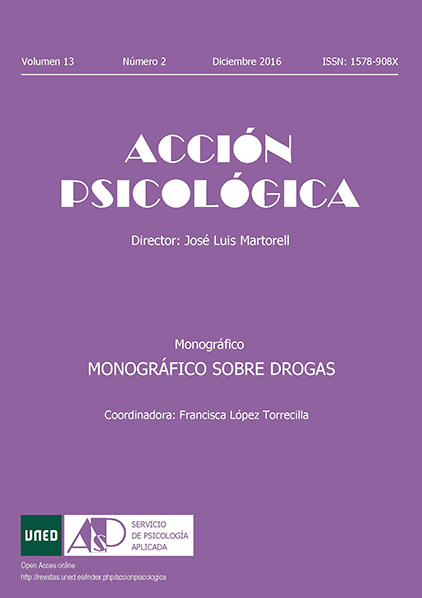 How to Cite
Martínez, Úrsula, Fernández del Río, E., López-Durán, A., Rodríguez-Cano, R., Martínez-Vispo, C., & Becoña, E. (2016). Relapse in Smokers Who Quit with a Psychological Treatment: A Gender Issue?. Acción Psicológica, 13(1), 7–20. https://doi.org/10.5944/ap.13.1.16722
Section
Artículos del monográfico [Monograph´s articles]
License
Accion Psicologica is published under Creative Commons Attribution-Non Commercial (CC BY-NC). The opinions and contents of the articles published in Acción Psicológica are responsibility of the authors and do not compromise the scientific and political opinion of the journal. Authors are also responsible for providing copies of the raw data, ratings, and, in general, relevant experimental material to interested readers.