The socialists and private education from the Debré Law (1959)
Keywords:
France, Religious Education, French socialism, Laicism, Private schools
Abstract
For the French Socialists, laicism (understood as the strict separation of State from religion) is a key issue, both in its programs and in the public policies they promote. It was precisely in the realm of the school that this specific relationship between this political trend and this notion was established. But in 1959, Michel Debré's government passed a law (named after him) that opened the right to public funding to private schools, predominantly Catholic. This has raised complex reactions from the Socialists since the vote of that legal text until today. In effect, from their position in the opposition until 1981, first they promised to repeal the Debré Law and to nationalize those private schools funded by the state. Since the eighties, and from their position and experience of power in the government, the Socialists have stepped back from the project, preferring to seek a compromise with Catholic schools. Since the beginning of the 21st century, the issue of development of other private denominational schools (Jewish, Muslim, Protestant evangelicals, traditionalist Catholics) has come back to stimulate debate among socialists.
Downloads
Download data is not yet available.
References
Ambler, S. The French socialist experiment. Philadelphia: Institute for the study of human issues, 1985.
Balland, Ludivine. Une sociologie politique de la crise de l'Ecole: de la réussite d'un mythe aux pratiques enseignantes (Thèse de science politique, Paris X, 2009).
Béthouart, Bruno. «Les Religions dans la rue». Les Cahiers du littoral 2 (14), (2015): 115-131.
Brucy, Guy. Histoire de la FEN. Paris: Belin, 2003.
Cheramy, Robert. La Fédération de l'Éducation nationale, 25 ans d'unité sociale. Paris: l'Epi éditeurs, 1974.
Desvalois, Pierre. «Quand le syndicat rencontre la politique, pourquoi et comment le SNI et la FEN ont contribué en 1965 à l'échec de la 'grande fédération'». Cahiers du centre fédéral 4 (1992): 5-44.
Dupin, Éric. L'après-Mitterrand. Le Parti socialiste à la dérive. Paris: Calmann-Lévy, 1991.
Ferhat, Ismail, and Poucet, Bruno. École, religion et laïcité, 2015 (actes d'une journée d'études à paraître)
Ferhat, Ismail. «Socialistes et enseignants. Le Parti socialiste et la Fédération de l'Éducation nationale de 1971 à 1992», thèse d'histoire contemporaine, Sciences-po Paris, 2013 (dir. Marc Lazar)
Ferhat, Ismail. «Une valeur qui (dés) unit? Le PS et la laïcité, du Congrès d'Épinay à la Commission Stasi». Parlements 23 (2015): 193-205
Fernandez Enguita, Mariano. «École publique et école privée en Espagne: la ségrégation rampante». Sociétés contemporaines 3 (2005): 67-95.
Fernández Mellizo-Soto, María «Education policy and equality in France: the socialists years». Journal of Education Policy 15 (1), (2010): 11-17.
Fernández Mellizo-Soto, María Igualdad de oportunidades educativas. La experiencia socialdemócrata española y francesa. Barcelona ─ Mexico: Ediciones Pomares, 2003.
Gombert, Philippe. «Les associations de parents d'élèves en France: approche socio-historique et mutations idéologiques». Revue française de pédagogie 162 (2008): 59-68.
Huchet, Jean-Paul «L'école au feu des passions». Lettre de l'Institut François Mitterrand 9 (2004).
Keeller, John T.S., and Schain, Martin A. Chirac's challenge: liberalization, Europeanization, and malaise in France. New York: St. Martin's Press, 1996.
Morin, Gilles. «Les socialistes et la société française. Réseaux et milieu». Vingtième Siècle. Revue d'histoire 96 (2007): 47-62.
Murray, R. Thomas. Religion in schools. Controversies around the world. Wesport: Praeger, 2006.
Pelletier, Denis, and Schlegel, Jean-Louis, dir. À la gauche du Christ. Chrétiens de gauche en France de 1945 à nos jours. Paris: Le Seuil, 2012.
Poucet, Bruno. «Négociations publiques et négociations secrètes au cœur des tensions scolaires entre enseignement public et enseignement privé (1950-1970)», dans Éducation, religion, laïcité -XVIe-XXes, dir. Jean-François Condette (Lille: CEGES, Université de Lille III, 2011), 509-528.
Poucet, Bruno. L'État et l'Enseignement privé. Rennes: Presses universitaires de Rennes, 2011.
Poucet, Bruno. La liberté sous contrat, une histoire de l'enseignement privé. Paris: Fabert, 2009.
Prost, Antoine. «The Educational Maelstrom». In The Mitterrand experiment continuity and change, edited by G. Ross, S. Hoffman and S. Malzacher, 233-238. Cambridge: Polity press, 1987.
Prost, Antoine. Éducation, société et politiques. Paris: Le Seuil, 1997.
Rapport général de la Commission chargée de l'étude des rapports entre l'État et l'enseignement privé. Paris : Ministère de l'éducation nationale, 1959.
Rohmer-Florence, Benoit. «Les langues officieuses de la France». Revue française de droit constitutionnel 45 (2001): 3-29
Savary, Alain. En toute liberté. Paris: Hachette, 1985.
Toulemonde, Bernard. Petite histoire d'un grand ministère. Paris: Albin Michel, 1988.
Visse, Jean-Paul. La question scolaire. Lille: Presses du Septentrion, 1995.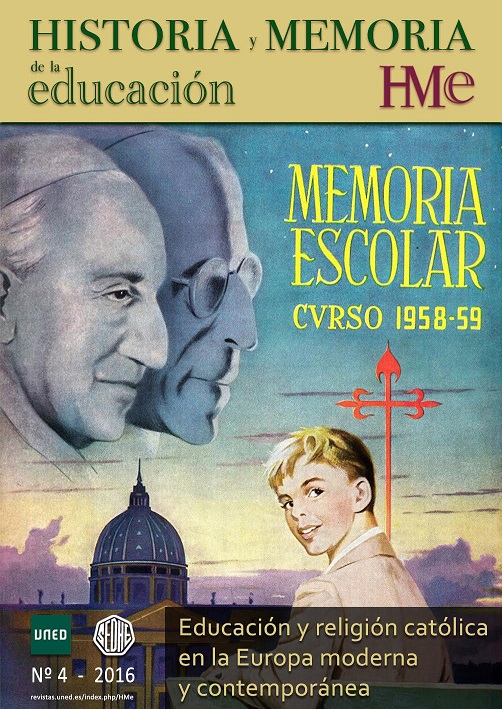 Downloads
How to Cite
Ferhat, I., & Poucet, B. (2016). The socialists and private education from the Debré Law (1959). Historia Y Memoria De La Educación, (4), 249–276. https://doi.org/10.5944/hme.4.2016.15682
License
Authors who publish in Historia y Memoria de la Educación agree to the following terms:
Authors retain copyright and grant the journal right of first publication with the work simultaneously licensed under a Creative Commons Attribution License that allows others to share the work with an acknowledgement of the work's authorship and initial publication in this journal.
Authors are able to enter into separate, additional contractual arrangements for the non-exclusive distribution of the journal's published version of the work (e.g., post it to an institutional repository or publish it in a book), with an acknowledgement of its initial publication in this journal.
Authors are permitted and encouraged to post their work online (e.g., in institutional repositories or on their website) prior to and during the submission process, as it can lead to productive exchanges, as well as earlier and greater citation of published work (See The Effect of Open Access).